Interview • Chase Kozlowski, I The Breather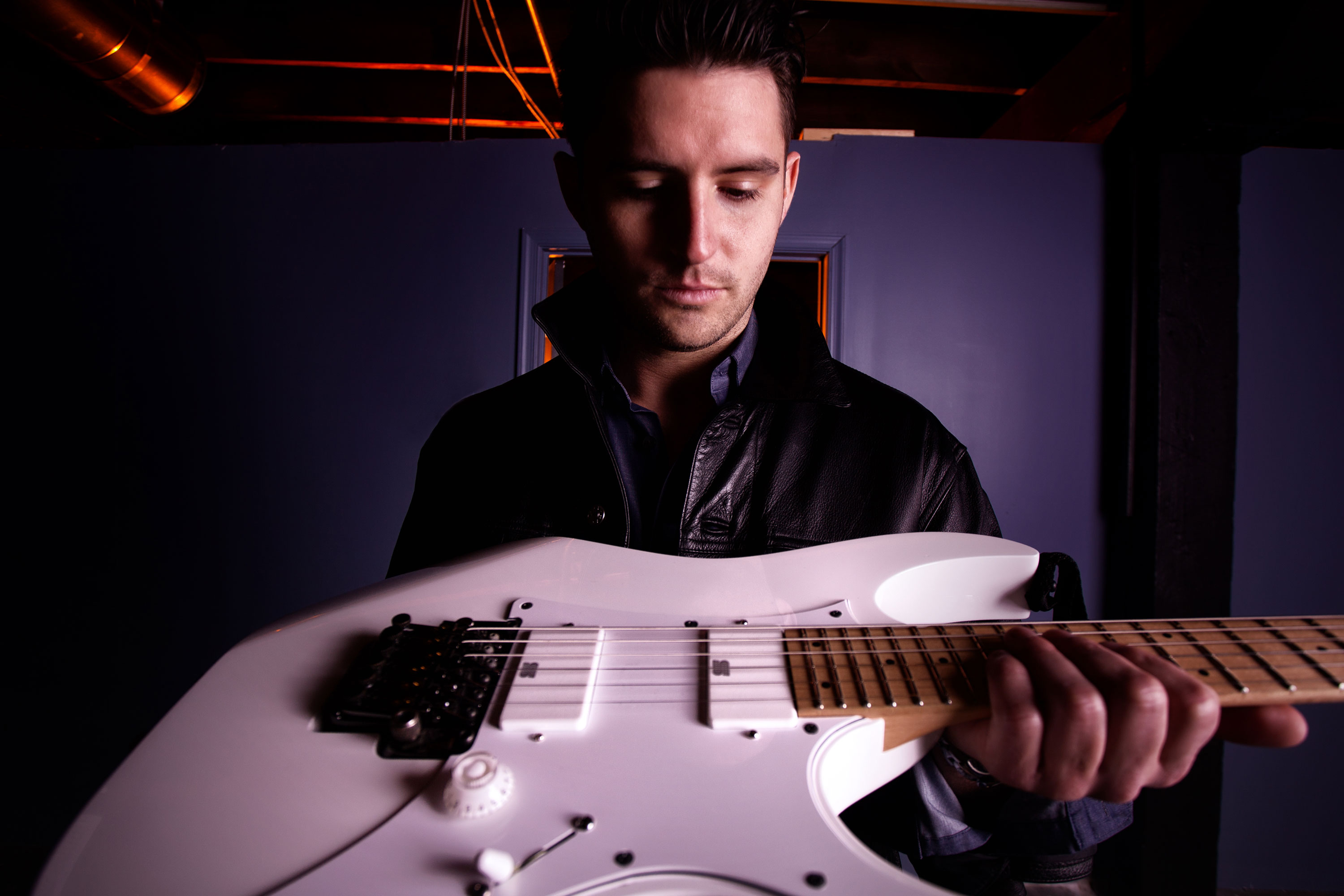 Originally Posted: June 20, 2013
Who or what inspired you to learn how to play guitar? Have you always played metal/metalcore style music, or did you begin studying/learning with another genre?
"My dad was the one who inspired me to pick up the guitar. He's been playing for probably close to 30 years. Metal has always been my "first love" when it came to playing. The first metal song I learned was "(sic)" by slipknot. They were and still are my favorite metal band. I've never really had any formal training in music other than a theory class or two in college. My band aside, blues and rock are probably my other favorite styles to play. I'm a huge Nickelback fan (I'll get hate for that!)."
When did you enter the I The Breather picture, and how did that come about?
"I joined I The Breather right before summer of 2011. It's kind of a funny story because up until that point, I was about to give up playing in a band altogether. My local band was pushing but was kind of at a standstill. I was in my second year of college pursuing a degree in business and had one semester left before I would have received my associates degree. I got a voicemail at around 3 AM from ITB asking if I would be interested in filling a guitar position. My life changed that next day. I hadn't really known the guys prior too well, but I remember playing a show or two with them and remembered liking them. We all met up and hung out and hit it off really well. The rest is history. I consider them my second family now."
Who are four of your biggest influences musically?
"Jim Root – Jim has always been my favorite guitarist. There has always been something about his persona that I thought was just cool. It sounds silly but I've found myself emulating him without trying. Since we actually had the opportunity to tour with Slipknot, I was able to have a couple conversations with the man himself. Aside from just the quality of the musician, I find people who are "famous" but still down to earth very refreshing. 
John Mayer – Obviously there is a huge difference in playing styles, but I have always been a huge Mayer fan and he, in my opinion, is one of the best songwriters and players out there.
 Zakk Wylde – I learned a lot from Zakk, technique-wise, in terms of digging in to the guitar. We are in a current state of a djent phenomenon in the metal guitar world, which I am a fan of, but I feel like Zakk is what got me to actually play the guitar hard. I do a lot of pinch harmonics as well. I would attribute that to Zakk. 
My dad would be the fourth. He's the reason I started and although he is more of a rhythm player, (I know) that somehow pushed me to want to become a lead player."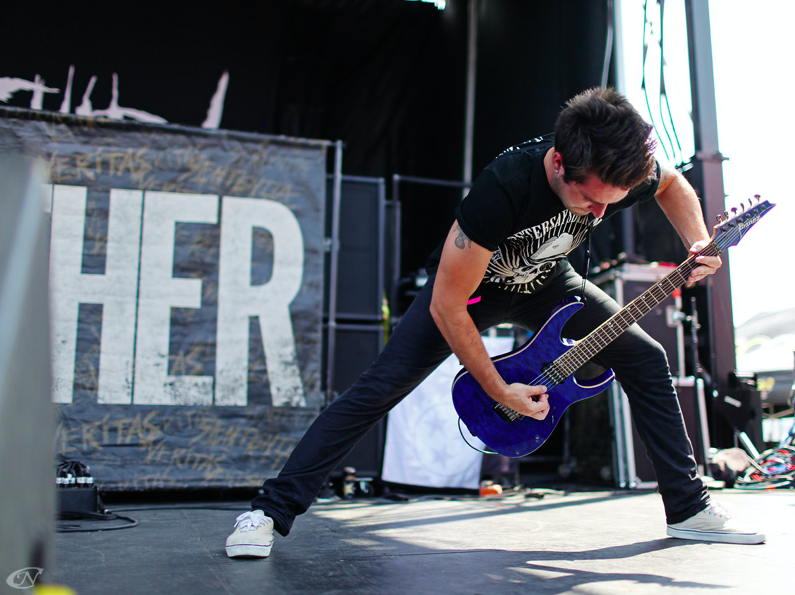 Could you tell us about your relationship with Ibanez guitars?
"I began working with Ibanez guitars two years ago. I had always been a fan of the brand as I had owned about 5 Ibanez models previously and always followed many of their endorsed players. I met an Ibanez representative, Mike, while on tour in Southern California. We hit it off and I signed on for an exclusive two year period, which means I can only play Ibanez guitars. I would still have it only that way. They are my favorite guitars out there and I've had a lot, over 40 guitars in the last few years to be exact. Best brand in the biz. I'm very fortunate to be able to work with them."
How has the Baltimore music scene affected you and the band both musically and personally?
"I'm actually not from Baltimore but I can say that when we play there, it feels like home. A lot of B-More pride."
If you could pick two band's top live performances, which would they be? 
"Slipknot puts on the biggest and most entertaining show I've personally been able to witness. They have full pyro, huge lighting rigs, percussion blasts, etc.. It also doesn't hurt that they have 8 members to watch at any given time. Not to mention they are exceptionally tight live players. Blink-182 puts on one hell of a show. I've seen them twice and both times were amazing. One of the best productions I've seen."  
I The Breather is writing and recording a new album currently, correct? Could you give us a preview as to what listeners can expect? 
"We are currently in the process of writing our 3rd full-length album and I'm really excited. I have recently moved into the position as the primary songwriter so as one could imagine, it's as exciting as it is stressful. I have been writing and demoing new songs for the past couple months trying to work on and develop the sound that everyone in the band could be happy with, and I think we've found it. We are using lower tunings, multiple tempos, vocal variety and a lot of other tricks and such that I'd rather not get into yet. You can expect it to be bipolar. Heavier, faster, slower, meaner, sadder, etc. I've honestly never been so excited for a release." 
Aside from the big news about the upcoming album, what's next for I The Breather? 
"Aside from the album, we'd like to get back out on the road and tour. That's our comfort zone." 
In today's music industry, what does it take to be a successful band/musician? Do you all have side-projects/jobs or partnerships (management labels, clothing companies, etc) in addition to what the band is doing? 
"I think there are a lot of different variables when it comes to achieving success in the music industry. I believe that having a strong team behind you is key. Being a part of the Sumerian Records family is in my opinion, a huge factor in us being even where we are. There are bands who have succeeded by going the DIY route, though. 
Some members stay busier than others while we're home from tour. Some of us have side gigs that we invest a lot of time into. Shawn runs a management company for bands that he is very passionate about. Conor is a part of a successful network marketing company. Aside from that, I'm always trying to write and remain active in what the band's next step is." 
What is one piece of advice you would give yourself a year ago if you had the chance?
"Make the music you want to listen to."